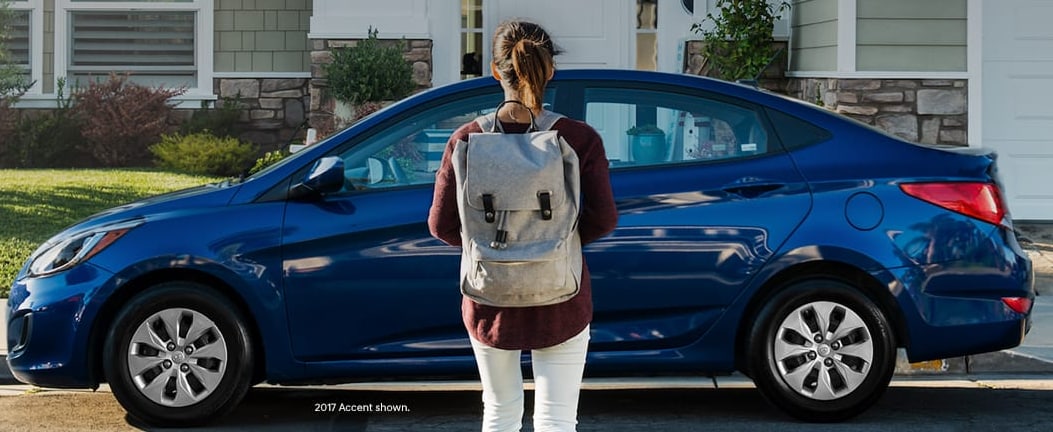 Bonus Towards
Purchase and Lease1
What is the Hyundai College Grad Program?
At Suburban Hyundai, we are pleased to offer you a significant savings opportunity through our College Grad Program to honor your important achievement. This program gives you $400 in credit toward the purchase or the lease of your new Hyundai. With our great prices, this incentive makes owning or leasing a Hyundai even more affordable.
How the Hyundai College Grad Program Works
The College Grad Program empowers any recent college graduate to save money on purchasing a new car or SUV from our current Hyundai inventory.
Your Education
Simply bring us a copy of your diploma dated within the last two years. Our program is also available to those who will graduate within the next six months. If this is the case for you, we will accept a letter from your school's registrar's office.
Your Employment
In addition to providing proof of your education, you will need to provide proof of your employment. We can accept a copy of your most recent pay stub or an offer letter for new employment.
Pick Out Your New Hyundai
The only thing left to do is to pick out your new Hyundai from our inventory. Our sales reps at Suburban Hyundai are excited to meet with you soon to show off the many options available in our showroom today. For more details about the College Grad Program and schedule time to tour the showroom, contact our Suburban Hyundai sales team today.
Legal

This Hyundai College Grad Program Offer (the "Offer") is limited to well-qualified customers who meet all the following Offer criteria, and who finance the purchase or lease of their new Hyundai, subject to credit approval, through Hyundai Motor Finance (HMF). Offer applies to all new and unused Hyundais excluding vehicles with Final Pay. Only available at participating Hyundai dealerships. Must have graduated with a Master's, Bachelor's or Associate's degree from a U.S.-accredited college or registered nursing school within the past two (2) years or will graduate from such a school within the next six months from date of finance contract. No adverse credit history. Verifiable proof of employment or firm commitment from an employer with start date no more than 90 days from date of finance contract. Offer valid through January 2, 2024 (HMF finance contract must be dated on or before January 2, 2024). 


$400 Bonus Cash

1$400 Bonus offer from HMF; only one Offer per vehicle. $400 Bonus offer not valid on Hyundai Certified Pre-Owned Vehicles or any used vehicles.

LEASE: $400 Bonus must be applied towards the amount due at lease signing. Monthly lease payment and total due at lease signing are calculated after applying the $400 reduction. $400 Bonus cannot be combined with Zero Due at Signing Lease program.

PURCHASE: $400 Bonus must be applied as an additional down payment.

New Hyundai vehicle purchases/leases only. See dealer for details.

Offer valid through January 2, 2024. Only on approved credit by HMF through participating dealers. HMF standard credit criteria apply. See your dealer for details. Dealers set actual prices. Limited time only.

**See dealer for program benefit details.

Hours
Monday

9:00AM-8:00PM

Tuesday

9:00AM-6:00PM

Wednesday

9:00AM-6:00PM

Thursday

9:00AM-8:00PM

Friday

9:00AM-6:00PM

Saturday

10:00AM-4:00PM

Sunday

Closed